Today (Saturday) is the first day of Christmas Break for the Byers family in England.  It's close to noon and the four kids are still in pajamas.  Except for the three-year old who decided his morning would be more fun in just is Thomas the Tank Engine skivvies.  Odd, since the rest of us are quite cold even with all our clothes on.  My wife and daughter have just convinced themselves that it is snowing.  Oh, ok, "It just stopped" said my wife.  Oh, wait… there is another flake.
Since we are all rather festive, I figure I'll make an indulgent post about coffee establishments here in Durham. (I may have to stop if the snowing continues).  Though most of my sermon prep, writing, and theology reading used to be done at Primavera Coffee and sometimes Urban Standard and O'Henry's in Birmingham, AL, I spend little time in coffee shops here in England.  Part of it is price.  But I also have a designated study desk in the Theology Department, and it is hard to do the type of concentrated reading and writing required for a doctoral thesis in public venues!  So I get coffee at Whittards (or Square Mile Coffee Roasters, by mail order), grind it at home, and then use a French press ("cafetiere") to brew the stuff in the study room.
England lends itself to drinking coffee.  The climate demands that you end up with a hot drink in your hands—windy, often dark, sometimes very cold, and frequently raining… now that's good coffee weather.  And pedestrian sections mean that there is a high concentration of shops.  Durham is a smallish city, but in the pedestrian centre of town we have close to ten places to get a cup of tea or espresso, most them pretty good.  Here are a smattering of them….
We'll start with Esquires.  They have the advantage of having one of the best locations for any coffee shop I have seen, poised on the bank of the River Wear and right on the edge of Silver Street Bridge.  The wifi is free and they have a spacious upstairs that is usually quieter than the street level (and you can see the castle from the upstairs windows).  Another plus: a great babychanging facility in the bathroom.  I usually get an Americano when I am scouting for a cup of joe.  My opinion is that Esquire's espresso is so-so.  Some other Brits I know esteem the place for its frillier drinks, but not so much for the coffee.
Just past Esquires, a couple of nondescript alleyways cut down and northward from Silver Street and spill out onto the river edge.  There is a pub down there, and also a great coffee shop called Leonard's.  It is a favorite around here.  The espresso is very good, and—an extra touch—the hot drinks come in a groovy-handled mug (see the pic).   Leonard's has a great atmosphere with the the feel of an old house, it's layout triangular from being at the corner of a street and a sharply angled alleyway.  It's a classy little place with an upstairs, hot meals, and the best muffins in town (no wifi, but again, the muffins and espresso are so good).
Costas and Cafe Nero are standard chains here in England.  We have one of each.  I prefer Nero's—the espresso is great for a franchise place and, though it gets a bit crowded, the darker setting and lower ceilings give me that sense that I am hunkered down in a shelter over my hot drink, a sense I love while drinking my coffee.
Durham just got a Starbucks.  I managed to wait about 6 weeks before I tendered my pence for a cup of Christmas Blend.  I have nothing against Starbucks, per se.  But as an American, I tend to wince over some of our most commercial cultural exports.  Then again, I love a Big Mac and I love a Coke with  pizza (which is on the lunch menu in the Byers home in a few minutes, by the way).  And this new Starbucks in Durham has one of the best atmospheres of any I have darkened the door of.
I have to mention Vennel's.  I think of it mainly as a restaurant, but I hear they have the best filtered coffee in town.  Getting to it is a blast, because you have to walk up a narrow passageway/tunnel thing (it's called a "vennel") to find it. The seating is outdoor and indoor.  Only been there a few times, but it is one of our favorite places in town.  Many of the tables inside are old sewing machine cabinets, and the floor and walls are all old wood.  The hug fireplace would be a great place to have a bowl of soup and a cup of tea.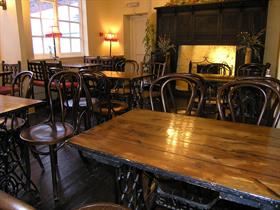 My favorite coffee shop is Flat White.   I think the espresso is probably a touch better than anywhere in town.  It is literally a hole in the wall with a wall.  What I mean is that the place is tiny and seems hollowed out of the masonry work in Elvet Arch, and then there is this massive, stone wall awkwardly occupying a huge portion of the already tiny room.  The limited seating, like Vennel's, is provided by old sewing machine tables.  There would be room for more of them, of course, were it not for that stone wall along opposite the barista's bar.  I used to do masonry work, so I think of possible ways to remove it.  Dynamite comes to mind—I am not much of a business man, but I do know that optimizing space could create more profits.    But then it turns out that the stone obstacle is a section of the old city wall—we're talking about a 700-yr old piece of craftsmanship.  Forget extra sewing machine tables—nothing makes the atmosphere of a coffee shop like a 13th century wall.  And besides, whenever I get coffee these days, I get it "take away" (read "to go," if you are American).  It's cheaper… and I've got a thesis to write.